"ASTROLOGY BOOKS"
By V.K.Choudhry, M.B.A. and K. Rajesh Chaudhary, M.B.A.
---
Systems' Approach predictive techniques give greater confidence in predictive capabilities in comparison to any other system of predictive astrology including classical principles.

BOOK (1). Self Learning Course in Astrology Revised Edition 2013 - Pages 206
Unique features are:
Major Constituents of Vedic Astrology
Important Terminology
Introduction to Charts
Significations of Signs
Significations of Houses
Significations of Planets
Planetary Periods
Other Important Concepts
How to Draw a Horoscope
Fundamentals for Studying a Horoscope
Application of Astrological Remedies
Tables of Nakshatra and Alphabet for Names
Table for Making Important Divisional Charts
Tables of Sub-Periods.
Order of Seeing Significations

BOOK (2). Interpreting Planetary Influences
(Systems' Approach for Interpreting Horoscopes). - Pages 273
FIFTH REVISED EDITION - RENAMED 2015
Unique features are:
Understanding Astrology
Latest Predictive Techniques
How to Identify the Results of Placement of Planets
Delineating debilitated planets
Delineating significations of each house
Remedial measures
How to Read the Chart of Twins
Initiation of Remedial Measures
Calculation of Strength of Planets

BOOK (3). How to Study Divisional Charts (with revised Preface giving updated predictive techniques.) - Pages 162
Unique features are:
Use of vargas relative to rasi
Analyzing debilitated planets
Analyzing combust planet Ketu dasha
Case studies using various vargas
Discussion of Vargottama planets, exalted planets

BOOK (4). A COMPLETE BOOK ON TRIPLE
TRANSIT INFLUENCES OF PLANETS - Pages 151
How to Identify Significant Events (Through Transits).
UPDATED EDITION - 2010
Unique features are:
Tips for predictive accuracy Rectification of birth charts through transit analysis Case studies:
ill health
marital disturbances
professional losses
criminal involvement
death and longevity
trouble to family members
loss of assets
promotions
engagement and marriage
Discussion of Manglik and Sade-Sati
Application of astral remedies

BOOK (5). Impact of Ascending Zodiac Signs. Pages 254
Unique features are:
How to analyze a chart in 3 minutes
Description of persons born under each ascendant
Suggested use of astral remedies for each ascendant
Reason for troubles to those with Taurus, Virgo, or Pisces rising


BOOK (6). How to Analyse Married Life. - Pages 240
REVISED EDITION - 2009

ABOUT THE BOOK

The marriage is an institution for continuance of mankind. Those blessed with a peaceful and happy married life contribute for the growth of the society. Inharmonious relationship turns the life into a curse.

Astrology helps in avoiding the exceedingly harmful events by matching the horoscopes for mental compatibilities and advising strengthening of the weak planets. Astrology gives insight into the matters of harmony, progeny, health, longevity, wealth and spiritual progress. Astrological advice and astral remedies provide mental strength to the person for steering the life without the stresses and strains.

The book discusses planetary influences for a happy married life. The book also brings out the planetary influences for widowhood, divorce, inharmonious relationships, lack of progeny, etc. through case studies besides discussing the concept of manglik dosha. There is a special chapter on application of Astrological Remedial Measures.

Unique features are:
Planetary configurations for marital happiness and discord
Astral remedies for marital problems
Influence of most malefic planet (MMP)
Case studies
delay/denial of marriage
lack of progeny
inharmonious relationships
divorce
death of spouse
harassment in marriage
extra-marital relationships

BOOK (7). Predictive Techniques and the Application of Astrological Remedial Measures. -
REVISED & ENLARGED EDITION 2014 (190 pages)
Unique features are:
**Advance & updated Predictive Techniques.
**Astrological Remedial Measures
** Impact of evil lords and planets in dusthana (evil) houses
**Timing of events
**Recovery of patients
**Return of missing persons
**Financial prosperity
**Progenic problems
**Psychiatric problems
**Delay in marriage
**Early widowhood
**Identifying Criminal tendencies
**Relevance of Vastu
**Case studies added for application and understanding of Predictive Techniques
**CAREER COUNSELING FOR YOUR CHILDREN
**PEARLS OF WISDOM
**ESSENTIALS OF HOROSCOPE READING WITH SAMPLE READING

BOOK (8). A COMPLETE BOOK ON MEDICAL ASTROLOGY - Pages 235 ( Manage Your Health Through Preventive Astral Remedies - Revised Edition 2012).
Unique features are:
Medical significations of planets, houses, and signs
Identifying health problems
Prime determinants of health
Timing recovery
Application of preventive astral remedies
Case studies

(9) ASTROLOGY BOOK : Select Right Profession through Astrology/ How to Avert Professional Setbacks. - Pages 216
Choose right profession for your ownself and your children for SUCCESS.
A complete book on PROFESSIONAL ASTROLOGY giving fundamentals, predictive techniques and practice through case studies.

ABOUT THE BOOK

Selecting right profession was always important but it has now become imperative in view of the competition generated by the changing economic scenario due to advent of new technologies and professional fields.

New technology has brought the world on a stage of recreation of new infrastructure and markets, which is generating wealth for the knowledge based industry across the world. The additional wealth is creating new opportunities for the leisure industry sector, luxury industry, computer industry, real estate industry, financial industry, automobile industry and research & development industry. These new opportunities are in fact the scope of the new economic order across the world. Those people, who are not working in the new infrastructure industry, have started feeling the financial crunch to keep pace with the life style changes.

To meet the challenges of the competition and the new economic order, it is important that one makes full use of one's talent and potential by strengthening one's weak and unfavourably influenced natal planets to augment one's memory power, analytical skills, creative power, imagination and leadership qualities besides the vision.

An appropriate astrological insight with a competent astrologer and measures for strengthening of weak natal planets can be the best gift from parents to their children.

Unique features are:
Advanced Analytical Techniques
How to Choose Right Profession for Children
Identifying professional indications
Averting professional setbacks
Augmenting professional prosperity
Identifying level of status
Business enterprises and partnerships
Case studies

BOOK (10). A COMPLETE BOOK ON HORARY ASTROLOGY - Pages 252 (Application of Prasna Astrology) Revised Edition 2012.

This is quite useful for answering some special questions like when the person will return; whether the lost article would be found; whether the person is likely to succeed in his/her efforts; birth rectification; timing recovery from illness; question about survival of a persons; etc. etc.

Special features
Concepts and Analytical techniques
Identify prasna
CASE STUDIES
Timing events and recovery from illness
Identifying course of litigation
Timing of marriage
Missing persons, Property disputes, Health problems, Losses, Miscs.

BOOK (11). PLANETS & CHILDREN - Pages 230 Published 2014.

A Book for study of Predictive Techniques for interpreting all aspects of the life of a child.

SPECIAL FEATURES:
Timing of Birth of the Child
Progeny Problems & Astral Remedies
Care of the Newborn through Astrology
Impact of Child Birth on Family
Health of Child in Infancy
Birth of Younger Siblings
Talent of Child
Education Prospects of Child
Sports Talent
Career Counselling for children
Order of Seeing Significations

BOOK (12). IMPACT OF RAHU AND KETU - Pages 233
First Published June, 2015.

About the book

Salient Features:
A Book for the study of the role of Rahu and Ketu in Horoscope Analysis,
Impact of Mysterious Rahu
Results in the sub periods of Rahu
Impact of Ketu
How to analyze main period or dasha of Ketu
Ascendant-Wise And House-Wise Impact of Natal/Transit Rahu & Ketu In a Horoscope
Kalsarpa Yoga - The Myth and its Impact .....
Case Studies:
Vulnerabe Longevity, Delay in Marriage, Serious health problems, Denial of Marriage, Professional problems, Early death, Early death of husband, Addiction,Black Magic Apprehensions, Accidents, Critical Illnesses, Transits, Oath-taking Charts, etc.

The book covers nearly all dimensions and facets of impacts of Rahu and Ketu. It is a very interesting book on Rahu and Ketu, to be read with patience. One may find several methods to give correct and precise prediction, putting a fresh breeze for examining their assimilation in traditional astrological thoughts.

The impact of Rahu and Ketu is a key analytical factor in the interpretation of horoscopes. Whenever the chart is brought up for interpretation, the analysis starts with the impact of the functional malefic planets and especially that of Rahu and Ketu. Rahu and Ketu become the key factor as they can impact six houses and the planets placed therein, if the placement of Rahu and Ketu is on or close to the most effective points of the houses of their placement. This placement can bring frequent challenges in life and threatens longevity. The close impact of Rahu on otherwise strong planets brings ambitiousness, greed, recklessness, short lived materialistic prosperity, incidence of addictions and medication.

The book has a foreword by
Justice S.N.Kapoor (Retd.)
Member Law Commission of India
Former National President Of ICAS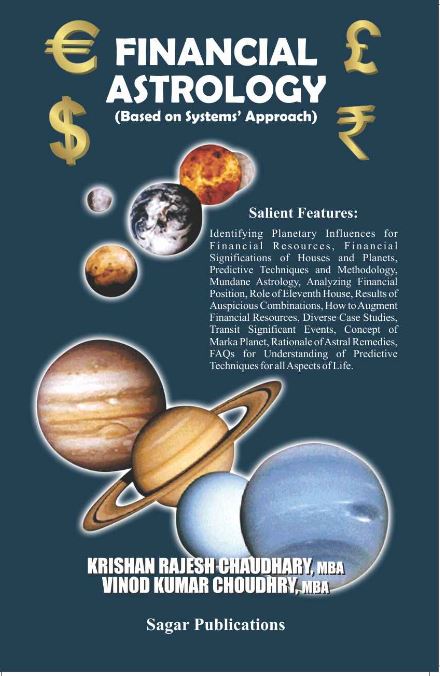 ASTROLOGY BOOK - "FINANCIAL ASTROLOGY"
This is a new book on the popular readers demand.

SALIENT FEATURES

Identifying Planetary Influences for Financial Resources, Financial Significations of Houses and Planets, Predictive Techniques and Methodology, Mundane Astrology, Analyzing Financial Position, Role of Eleventh House, Results of Auspicious Combinations, How to Augment Financial Resources, Diverse Case Studies, Transit Significant Events, Concept of Marka Planet, Rationale of Astral Remedies, FAQs for Understanding of Predictive Techniques for all Aspects of Life.

This book empowers the readers to learn and apply System Approach principles for ascertaining financial status of natives as well as Mundane principles for application to the Nation's horoscopes.

The diverse case studies in the book clearly demonstrate the valid application of System Approach principles. This book enables the astrologers to predict the financial status and other facets of life, right at the time of birth. SA predictive techniques give greater confidence in predictive capabilities in comparison to any other system of predictive astrology including classical principles.

Pages 271
Prices : US$ 12


"NEW BOOK"

---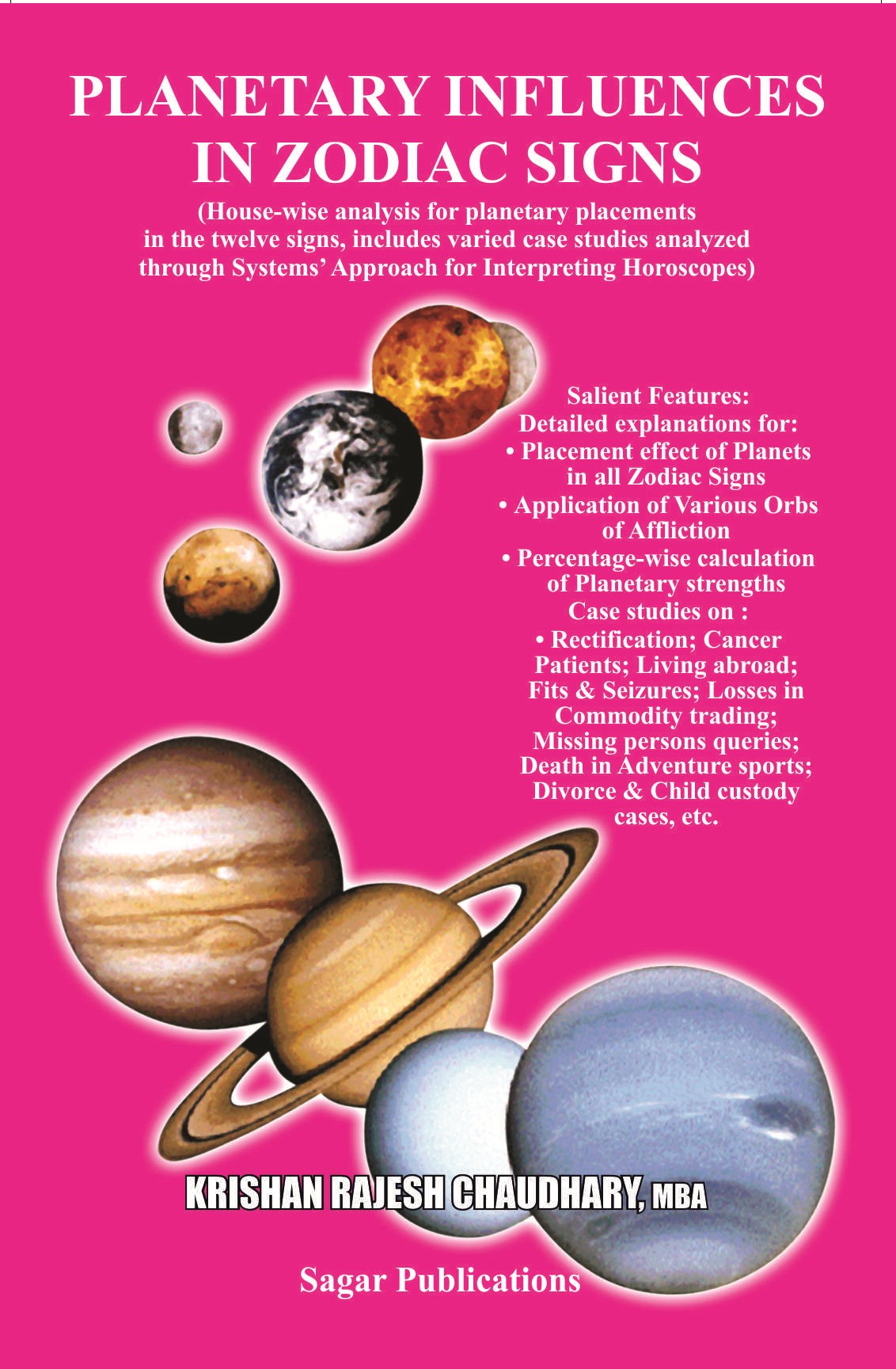 NEW ASTROLOGY BOOK - "Planetary Influences in Zodiac Signs"
RELEASED.
This is a new book on the popular readers demand.

SALIENT FEATURES

• Detailed explanations for: • Placement effect of Planets in all Zodiac Signs • Application of Various Orbs of Affliction • Percentage-wise calculation of Planetary strengths • Case studies on : • Rectification; Cancer Patients; Living abroad; Fits & Seizures; Losses in Commodity trading; Missing persons queries; Death in Adventure sports; Divorce & Child custody cases, etc.

ABOUT THE BOOK

This book fulfils the popular demand of students and advanced practitioners of the Systems' Approach to Interpreting Horoscopes. It delves deeply into the placement effects of various planets in the twelve zodiac signs. The explanations given in the book seamlessly synthesise the general and particular significations, as well as the effect of the zodiac sign and the house of placement of planets.

When read along with our book titled Impact of Ascending Signs, this work acts as a complete reference for the practicing Astrologers. It helps them in providing the precise guidance on the possible results of a particular planet or a sub period to their clients.

This book contains a simplified method for calculating the loss of strength by the planets afflicted by a Normal or a Special affliction. It also includes a detailed step-by-step guidance for the calculation of precise natal and transit strengths of various planets.

Versatile case studies with complete details of various transit significant events (TSEs) like date of accident, fits and seizures, etc. have been included in the book and an in depth deliberation has been undertaken for easy comprehension of various factors to be considered while elucidating the results of planets. The case studies have been discussed, keeping in mind the needs of practitioners and professional astrologers.

We hope that this book gives confidence to both professional astrologers and the learners of the divine science in their quest for predictive accuracy.

Pages 313
Price : US$20

The books are dispatched through registered book post and by Airmail. Any transit damages or delivery delay is beyond our control and we do not take responsibility for the same.

The cost of set of fourteen books for despatch in countries other than India is US$ 180. These are dispatched by registered air mail packet. All Books are mailed within 2-3 days of receipt of payment. All Books are mailed within 2-3 days of receipt of payment.

Indian Customers can get the Books by payment in the BANK account.

CLICK HERE FOR BANK ACCOUNT & PRICE IN INDIAN RUPEES DETAILS